T-780K led controller features
1. The controller has 8 ports output, each port can load up to 170/512/768 pixels (the number of load points varies according to different chips).
2. The controller port outputs two signal protocols: ①DMX512/1990 international standard protocol and DMX512 extended protocol; ②SPI/TTL serial protocol.
3. The output port of the controller provides three protections, which can ensure that the output port of the controller has a short circuit in the controlled lamp, and the port will not be burned out in the case of reverse connection.
4. Controller ID automatic/manual numbering function, multiple controllers can be numbered together or individually.
5. The controller comes with built-in effects, which can test the loaded lamps (RGB/RGBW lamps support).
6. The controller has DMX512 address writing function and address test, single port or all ports load DMX512 IC write address, and perform address test on lamps.
7. The communication between the controllers adopts the international standard TCP/IP network protocol, the optional transmission rate supports 100M/Gigabit adaptive, the transmission speed is more stable and fast, and the maximum transmission distance between each two controllers is up to 100 meters, beyond this distance can add switches or use optical fiber for long-distance transmission.
8. The controller provides LCD display, which can display the control model, ID, and working status.
9. When cooperating with our online video software LedPlayer for computer control, the connection status of the controller can be monitored on the computer in real time. Using online video software LedPlayer to connect to the computer can realize: program timing playback, program segment selection, effect brightness adjustment, white balance online adjustment, program playback speed adjustment, display text, picture loop playback, etc., which greatly meets the needs of customers in application and Various requirements in debugging.
10. The online video software LedPlayer comes with Gamma correction, which can make the color display more delicate and bright.
11. Set the IP address when the controller is connected to the computer for playback. The controller supports integrated control of online and offline. The online priority is the highest. It will automatically switch to offline when there is no online signal.
Note 1: The DMX/1903 IC loaded by the controller can be controlled by MADRIX software. Each port of the controller has a maximum of 4 normal units (4 Univ) lamps, that is, 4*170 pixels; multi-controllers combine to form a maximum control system Compatible with 2048 units.
Note 2: The controller supports rack-mount installation, if necessary, please contact the relevant business personnel before placing an order.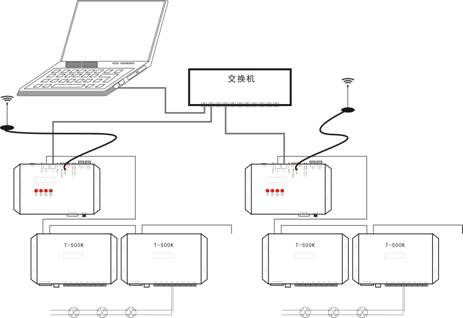 Click to download the full version of the T-780K user manual