HLG-480H operates from 90~305VAC and offers models with different rated voltage ranging~between 24V and 54V.
Thanks to the high efficiency up to 95.5%, with the fanless design, the entire series isable to operate for -40°C~ +90°C
case temperature under free air convection.
The design of metal housing andIP67/IP65 ingress protection level allows this series to fit both indoor and outdoor applications.
HLG-480His equipped with various function options, such asdimming methodologies, so as to provide the optimal designflexibility for LED lighting system.
◆ Features
· Constant Voltage + Constant Current mode output
· Metal housing with class I design
· Built-in active PFC function
· IP67 / IP65 design for indoor or outdoor installations
· Function options: output adjustable via potentiometer;3 in 1 dimming (dim-to-off, isolated design) ; smart timer dimming; junction box
· Typical lifetime> 62000 hours
· 7 years warranty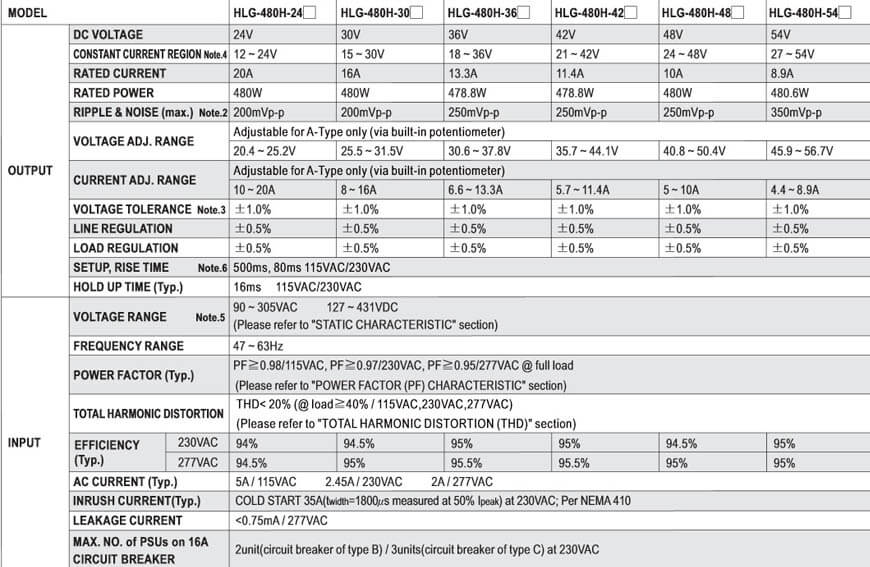 ◆ Packaging Details: 1PC in a box
◆ Good's Weight: 2.8KG /1PCS
◆ Packaging QTY: 4PCS per Carton
◆ Package weight: 12.2KG /4PCS
◆ Packaging Size: (No data)
◆ Packaging Volume: 0.58CUFT
◆ Packaging Materials: Carton
◆ Delivery Time Shipped in 10 days after payment