I. Features
1. MR-328DW Standard USITT DMX512/1990 General Grotocol and Extended Protocol;
2. MR-328DW Supports TTL Serial Return to Zero Protocol;
3. Controller Signal OutPut ADRI/PO Terminal Can Achieve DMX512 Channel Automatic Addressing,
Support DMX512AP-N / NB, UCS512, MY7221, WS2821 and Other Driver Chips;
4. MR-328DW Support Address Line Differential Signal, Can Be Used for Long Distance;
5. The System Supports Automatic, Timing, Holiday Preset Effect Playback;
6. Independent Brightness Control of 3 Primary Colors, Easy to Adjust White Balance;
7. Support R,RB,RGB,RGBW,RGBWY, and Multi-Color Mixing Control;
8. Support 32-65536 Grayscale 16Bit, Support 262144 Grayscale, Restore image Details;
9. Accurate Gamma Correction Algorithm, in Line With Human Visual Sense;
10. Support Opening and Closing the Function of Writing DMX Addresses and Parameters;
11. Support 120Hz Frame Rate to Ensure High-definition Display and 3D Requirements;
12. Support Buttons and External Remote Control, Program Selection, Brightness Adjustment,
White Balance Adjustment, Playback Speed Adjustment, etc;
13. LCD Display Module Displays Controller Parameters and Status in Time;
14. SD Card Storage, Can Support 64G, Can Preset 99 Program Files;
15. 8-Port OutPut, Single Channel 512 Channels, ExpansionNeeds to BeTested by Itself;
16. Support Device Port Anti-interference and Leakage Design;
17. Support Overcurrent and Overvoltage Protection, Can run for a Long Time;
18. Support Severe Working Environment -40℃-80℃, Normal Operation Without Failure.
19. Built-in Animation Test Program;
20. Supports Offline and Online Firmware Upgrades.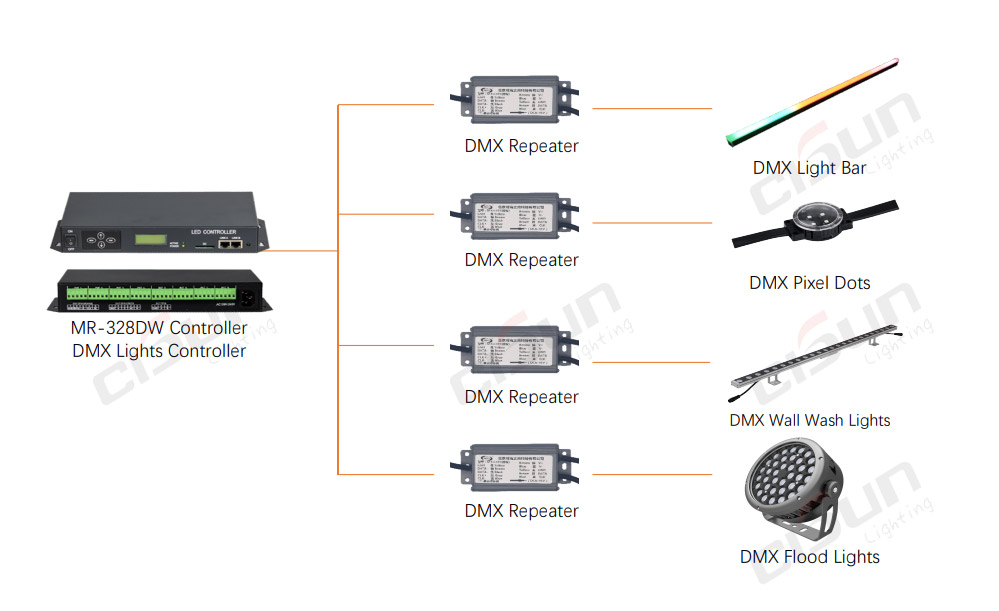 II. OutPut Port Definition
MR-328DW Controller Uses 8-Port 5Pin Terminal Interface OutPut Signals.
5Pin Terminals Sort Sequentially From Left to Right, As Shown Below:

Note: The Signal Terminal ④⑤ is a Differential Signal. When The Differential OutPut of The Addressing Line is Not Used, Only Connect ⑤ (Addressing +).
III. Controller Three View Size Chart


Remark:Above Three Views The Size Unit is mm.
IV. Basic Parameter Table