MR-3F23S standard GPS satellite synchronization master is the second generation of solution products. Higher-end FPGA chips are used to support higher computing rates, larger storage space, and expand support for more on-load channels. Support capacitive multi-touch operation, greatly optimizing on-site debugging work. Long-term operation in high and low temperature harsh environment.
Features
1. MR-3F23S Supports a Maximum Load of 450,000 ChannelsIn;
2. MR-3F23S Support Unlimited Cascade Transmission, Unlimited Number;
3. Realize Wireless Synchronization of Multiple Devices Through GPS Signals;
4. GPS Signal Global Coverage, Global NO Distance Limit;
5. The System Supports Automatic, Timing, Holiday Preset Effect Playback;
6. Support Buttons and External Remote Control, Program Selection, Brightness Adjustment, White Balance Adjustment, Playback Speed Adjustment, etc;
7. Support Switch Parallel Scheme: improve Stability;
8. Support a Variety of DMX512 Driver Chips Offline One-Key Write Address;
9. Support Offline Fix, Clear Device ID Number;
10. Support Switch Parallel Scheme: improve Stability;
11. Support Multi-Loop Ring Backup, One Controller is Broken or The Network Cable is Broken and The Display is Not Affected;
12. Support Real-Time Hot Backup of Multiple Master Controllers;
13. Independent Brightness Control of 3 Primary Colors, Easy to Adjust White Balance;
14. Support R,RB,RGB,RGBW,RGBWY, and Multi-Color Mixing Control;
15. Using Ethernet Interface and UDP Protocol, The Distance is 100 Meters;
16. SD Card Storage, Can Support 64G, Can Preset 99 Program Files;
17. Support Multiple Master Control Offline and Online Partition Management Function;
18. Support Multiple Devices LAN Remote Online Download and Update Programs;
19. Built-in Animation Test Program;
20. Supports Mixed use of Different Types of Lamps and Lamps of Different Protocols;
21. Equipment Network Port, Surge Protection: 1.5KV;
22. Support Severe Working Environment -40℃-80℃, Normal Operation Without Failure.
23. Supports Offline and Online Firmware Upgrades.
24. Dual Network Port Output Simultaneously, More Flexible Architecture;
DETAILS PARAMETERS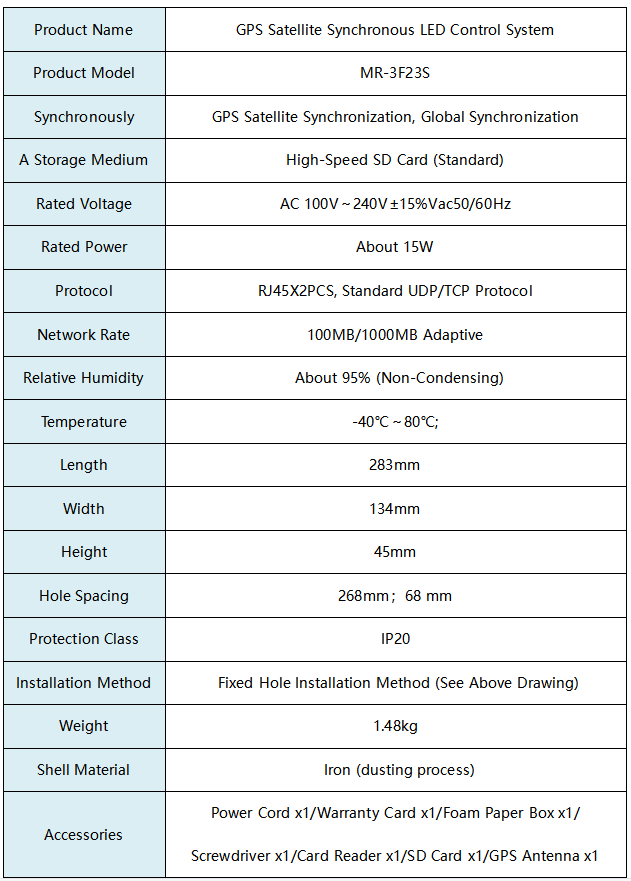 MR-BF3F23S DIMENSIONS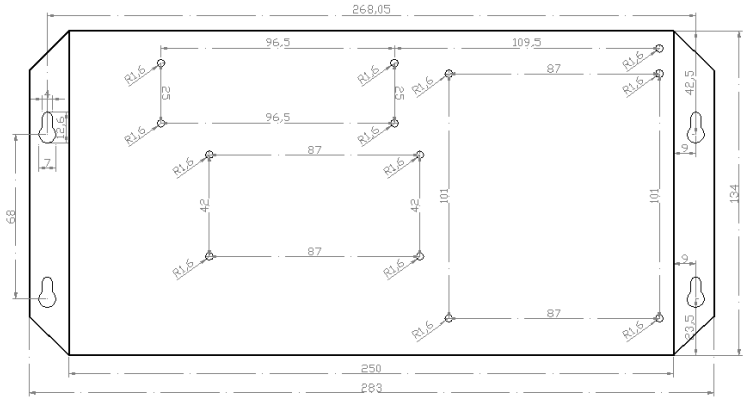 Controller Installation Applications