◆ Parameter
Power input: DC5V USB Type-C interface
Data output: DMX512
Capacity: 1,536 Channels
Apply to: RGB 3CH and RGBW 4CH
Addressing mode: Auto Addressing
Working temperature: -30℃~55℃
Cover material: Iron+PCB
Appropriate chip: UCS512,SM512,TM512,RDM, etc.
Dimensions: L122*W88*H41mm
Weight:0.55KG / G.W.

◆ Features
· Conform to DMX512 (1990) International Standard Protocol.
· Set address codes for different manufacturers DMX IC and DMX lamps through various parameters.
· A simple controller for testing DMX512 lamps and lanterns.
·Applicable lamps: DMX512 protocol LED flexible light strip, 3D LED meteor light, LED wall washer, LED linear light, LED flood light, LED pixel light, 3D pixel ball, LED digital light tube, LED underwater light, LED ground Buried lights, etc.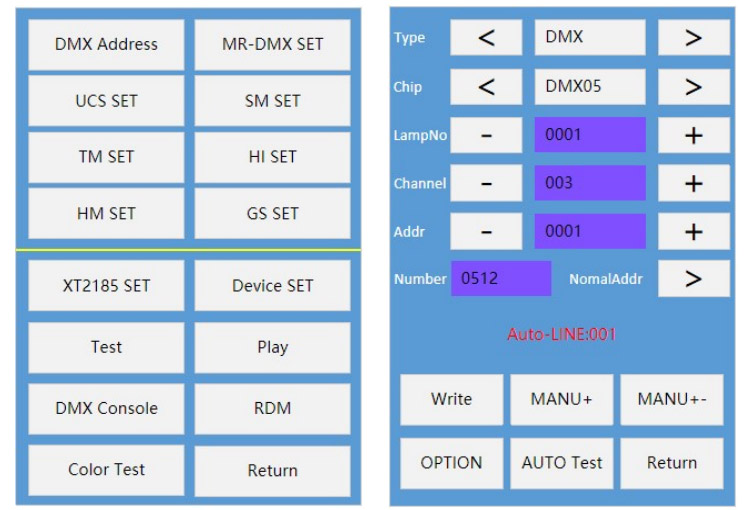 ◆ Order Product Code
No.

ITEM NO.

Power

Voltage

Protocol

Applicable IC model

Remark

1

WT-25

5W

DC6-24V

DMX/RDM

UCS512,SM512,TM512,RDM, etc

No battery

2

WT-23

5W

DC6-24V

DMX/RDM

UCS512,SM512,TM512,RDM,etc

Built-in rechargeable battery

3

WT-33

5W

DC6-24V

DMX/RDM/SPI

UCS512,SM512,TM512,RDM, etc

1Port SPI & 1Port DMX output

Built-in rechargeable battery

4

WT-35

5W

DC6-24V

DMX/RDM/SPI

UCS512,SM512,TM512,RDM, etc

1Port SPI & 1Port DMX output

No battery